The following places of worship are located in our neighborhood.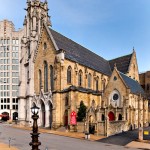 Description from their website – We seek a deeper relationship with God and each other in Jesus Christ through: celebrating the sacraments faithfully, proclaiming the Gospel boldly, embracing diversity joyfully, serving all passionately as a Cathedral.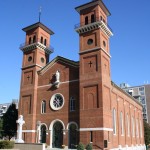 St. John Apostle and Evangelist Parish
Description from their website – We are a downtown center-city parish of diverse people who share a common belief in Jesus Christ and his teachings. Our mission is to proclaim the Word of God by the example of our lives, through prayer, hospitality, acceptance, forgiveness, love, stewardship and support of one another and by inviting others to share in our Catholic faith.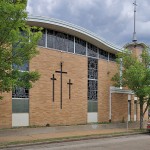 Description from their website – We, the community of believers of St. Nicholas Catholic Church are called by GOD to give living witness to the saving power of Jesus offered freely to all humanity. We are empowered by the Holy Spirit and sent into the world to recreate the face of the earth. In the light and the truth of the Gospel message, we are committed to: Grow in our Faith, Participate in and support our Church, to reach beyond ourselves to meet the needs of others who seek to better their lives by unashamedly living our Catholic Faith.
Centenary United Methodist Church
Description from their website – Centenary United Methodist Church will be a church of neighbors, committed to serving all people whom God has placed in our midst through our caring presence and mindful actions, as demonstrated in the life of Jesus.
Disclaimer: These institutions have not been placed in any particular order. DNA does not have a stance or position on any of following places of worship or the religions they are a part of.